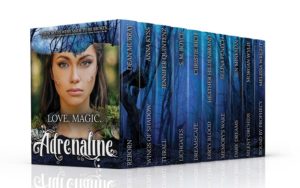 Hello Everyone!
I have a ton of catching up to do now that i'm back from SLC Comic Con (more on that later), but I wanted to take a few moments and make sure that any of you who aren't on my mailing list (you really ought to consider signing up) know that I have just finished putting together a multi-author bundle.
These are great ways to find a ton of new authors, especially since I did so much of the hard work wading through dozens of books looking for stuff that I thought you all would like.
Tastes and individual preferences being what they are, I suspect than not all of you will like everything in the bundle, but across so many excellent books there should be something for just about everyone and likely for most people there are multiple great books in here that you'll be glad you had a chance to read.
So, please take a moment to grab a copy of your own from wherever it is that you normally get ebooks!
All the best,
Dean