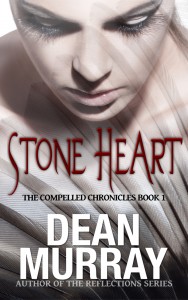 I'm happy to be able to announce that Stone Heart (The Compelled Chronicles Book 1) is now for sale!
The Setup:
Dani's new home isn't just another stopover in a long chain of places she'll never see again, it's the home of both Caine and Jerek, two guys like nobody she's ever met before. One represents the best friend she's been hungering for, and the other represents something much more.
It should be the perfect recipe for a fairytale, but Caine and Jerek live in a dark, shadowy world and one of them is hiding secrets that will change everything, secrets that relate directly to Dani.
You can find all of the links to this book on the Stone Heart Product Page.
As exciting as that is, for a limited time I'm also giving away a Kindle Paperwhite. Just purchase a copy of Stone Heart within the next two and a half days and there will be a link to the giveaway page at the very end of the book.
*No purchase necessary to win. If you would like an entry, just send a letter to the address on my mailing list emails with your name and email address.